Mission Statement: To inspire students to develop STEM skills in an enthusiastic, student-driven environment through community outreach and partnerships with sponsors to build a fully-functioning, competitive robot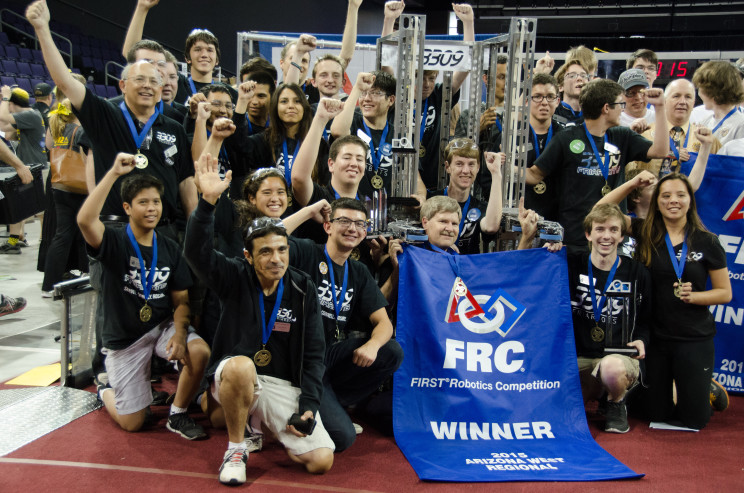 The Friarbots were established in 2009 to enter a team in the FIRST Robotics Competition to help expand Servite High School's math and science programs. We believe that participating in FIRST provides a unique challenge to the students at Servite High School, Cornelia Connelly High School, and Rosary High School, and enables them to show their talent at a national and international level. Furthermore, we believe that participating in FIRST teaches students how to work in a team environment and collaborate between the various committees that make up the team. By competing in the FIRST Robotics competition, we hope to give students the opportunity to garner experience in the fields of business, engineering and programming to assist them with future careers.
[pullquote]In the past year, the Friarbots have earned semi-finalist and finalist rankings in Los Angeles and the Central Valley and won the Entrepreneurship Award for "presenting themselves more like a well-established corporation than a high school robotics team." [/pullquote]Previous robotics and/or programming experience is not required to join the team. Mentors, moderators and team members are available to help new members learn the tasks that are of interest to them, whether that means being machine-trained or leaning CAD or programming. Members also utilize their writing, animation and photography skills to publish Servite TV segments, promotional videos, marketing materials, and the team website. The team video, created yearly for the Chairman's Award, provides great insight into the Friarbots' program.
Team 3309 is comprised of 14 different committees in charge of the various aspects of the team's function, including public relations, design, build, programmin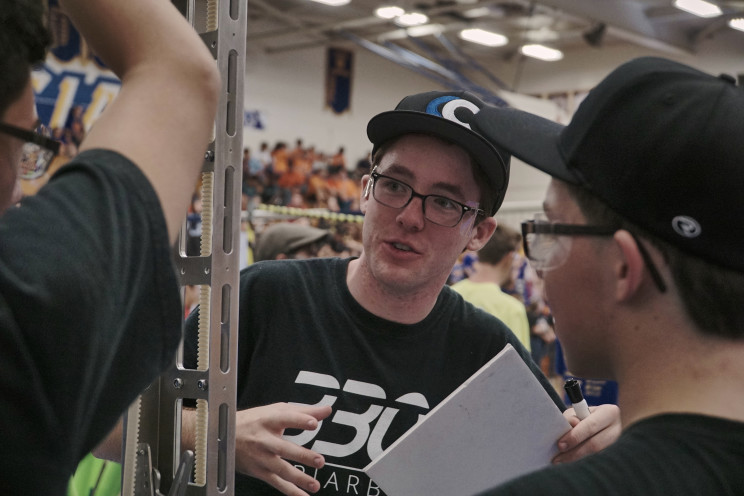 g, and project management. Each committee works closely with an adult mentor who has experience in a related field, and who is able to guide the students in the more technical aspects of their work. Each committee is headed by an experienced student who is able to further structure and guide the direction of the project. Through our peer leadership program, the leaders of the team educate newer members and teach them the skills required to be a contributing member of the team. It is a way to entrust them with greater responsibilities and imbue the confidence needed to become effective leaders. The program gives us the peace of mind that no person on the team falls behind or is lacking their ability to contribute.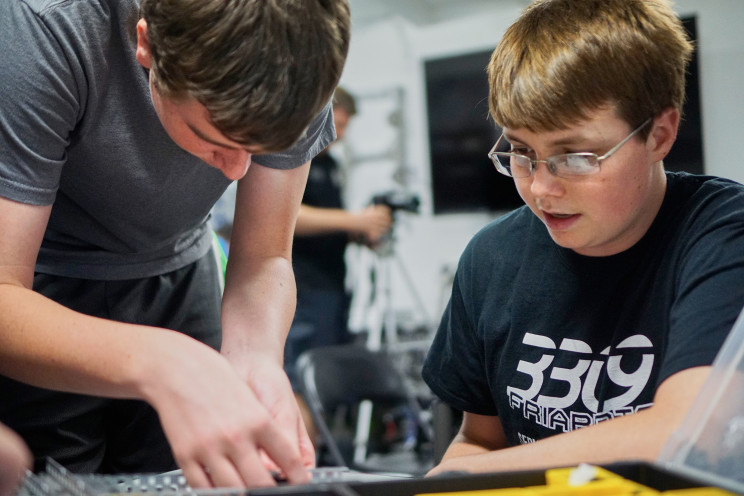 Participation in FIRST allows Servite, Rosary, and Connelly students to utilize and broaden their understanding of today's technology. It gives them the opportunity to apply their knowledge of mathematics and science. Students learn to work together and focus their skills in many areas including computer science, physics, and engineering. At the present time, this is the only technology-based team at our school, and it provides a unique opportunity for students. The Friarbots are grateful to have the support of the school administration, which has been instrumental in organizing and facilitating the details surrounding Team 3309.Team 3309 has the support of sponsors and mentors, as well as a dedicated group of parents that make the team a success.
As a tri-school team, we lead by example. It is a concept of leadership that distinguishes us from other teams. All members of the team learn that dedication and determination lead to success. These leadership qualities are passed onto other members and are coupled with the leadership ideals of FIRST. Team 3309 brings this dedication, determination, and leadership to our local community and to the competitions.
Awards
2013


Las Vegas Innovation in Control Award
Las Vegas Semi-Finalist with 341 and 3366 (Alliance Captain)
Los Angeles Industrial Design Award
Los Angeles Semi-Finalist with 2443 and 3408
2012

Central Valley Finalist with 254 and 1323
Los Angeles Entrepreneurship Award
Los Angeles Dean's List Finalist – James Carr
Los Angeles Semi-Finalist with 599 and 1138
SCRRF Fall Classic Finalist with 1538 and 3647
2014


Engineering Inspiration: Team 3309 has shown the results of success in their projects and appreciation for engineering in their school and community.
2015

Innovation in Control: Team 3309 developed a unique system for maintaining command over their Robot. The execution and use of all components were shown to be stellar.
Quality Award Curie Carver Division: Team 3309's has come together to construct a robot that has competed at and won in the World Division for its quality.
Excellence in Engineering: The Friarbots have earned this award twice across two regions for their elegant and advantageous design.
Finalist, LA Regional: Team 3309 was one of three teams in an alliance that competed in the final matches of the LA Regional competition.
Winner, Arizona West Regional: Team 3309 emerged the victors of the innagural Arizona West Regional.

2016

Chairman's Award, Los Angeles Regional
Dean's List Finalist, Los Angeles Regional – Jon Logrippo
Winner, Orange County Regional
Other Awards


Woodie Flowers Finalist: The Woodie Flowers Finalist award is presented to a single mentor per region. The mentor to whom this prestigious award shows qualities of leadership, inspiration and empowerment towards those they mentor. At the LA Regional, Mr. Smith was the recipient of the Woodie Flowers Finalist Award. Team 3309 recognized their mentor Mr. Smith for all his dedication to the team.

Chezy Champs 2015: The Chezy Champs award is a prestigious award given to the team that has displayed the most intricate programming and that has "out programmed" the competition.
About FIRST Robotics
FIRST (For Inspiration and Recognition of Science and Technology), is an organization that supports science, technology, engineering, and math by turning robotics into an competitive sport.  FIRST (usfirst.org) consists of more than 2,000 teams worldwide.  [pullquote]FIRST strives to build the next generation of young engineers in addition to enabling students to sharpen their business acumen in the process of raising funds and promoting their team. [/pullquote] Colleges, universities, corporations, businesses, and individuals provide scholarships to our participants. Involved engineers experience again many of the reasons they chose engineering as a profession, and the companies they work for contribute to the community while they prepare and create their future workforce. The competition shows students that the technological fields hold many opportunities and that the basic concepts of science, math, engineering, and invention are exciting and interesting.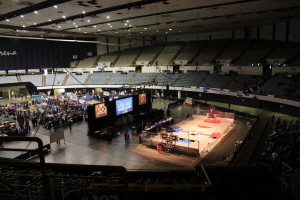 Students, along with knowledgeable mentors, work to design, build, and field a competitive robot which performs a specific game task. Additionally, team animators create game and safety animations that are judged by FIRST. The co-curricular competition season begins in January with the announcement of the game challenge for the year, and continues through the second semester. Many of our students will work throughout the year, including summers, to hone their robotics skills.